The wrap around sleever is suitable for the subsequent packaging of combined cup products, preformed cup products and bottled products. It can automatically complete cardboard picking, product grouping, cardboard and product synchronous conveying, cardboard and product positioning, folding, glue spraying, bottom sealing and output. The packaging material of this kind of packaging form is cardboard, with good surface printing effect, environmental protection and pollution-free, and has a good market prospect. The equipment has stable performance, simple operation, convenient maintenance, and high cost performance. It is the preferred automatic downstream packaging production equipment for modern enterprises.
Performance
Different specifications of the integrated packaging technology, the moving parts in contact with the packaging can be adjusted in size, realizing the conversion between different packaging specifications in a short time.
Product flexible grouping technology, with a flexible cup pressing mechanism and a smooth engineering plastic mesh belt chain, ensures that the union cups are not damaged during fixed distance grouping and improve production efficiency.
Anti-drop positioning technology, for different types and specifications of product packaging, the positioning of a single product in each group of packaging is different. According to the shape of the product, different positioning buttons are set on the cardboard to locate the cardboard and the product to ensure In the process of transportation and sales, secondary packaging products won't bale off.
The whole machine is driven by servo motors, which are precise, fast, efficient and energy-saving. Conveyor belt with large capacity to store cardboard, and it
has the function of adding cardboard without stopping the machine. With a dedicated PLC programmable control system, a color digital touch screen human-machine communication interface, the information display is concise, the operation control is intuitive, and it has a fault self-diagnosis function.
Technical parameter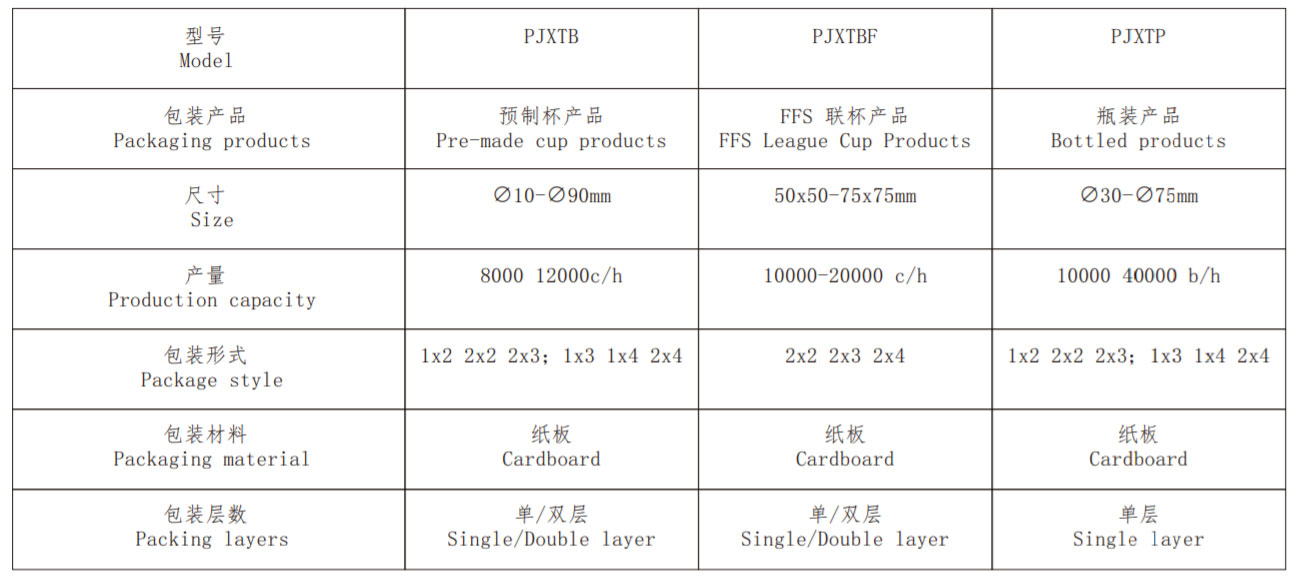 According to different product characteristics, the production capacity will be different.
The parameters and functions are subject to change without notice.
Application: